Born in Athens, GA (1979) and raised in Jacksonville, FL, Otha Davis III (also known as Vakseen) is a self-taught, museum-exhibited artist and a multi-platinum music executive, producer & songwriter. While working on hit records has played a driving force in his career, Vakseen has been an active realist painter since moving to Los Angeles in 2011. Known for his Vanity Pop, collage-influenced paintings, his artwork has been exhibited by the Ontario Museum of History & Art, Brownsville Museum of Fine Art, Spectrum Miami/Art Basel, Adidas, Vans, BBC World News, HBO's Insecure, La Luz de Jesus Gallery, Flinders Lane Gallery, Zhou B Art Center, Julien's Auctions, Gallery 1988, Los Angeles Municipal Art Gallery, the University of California Los Angeles, Bombay Saaphire Gin, the city of Los Angeles, Gallery 825, Abend Gallery,  Baton Rouge Gallery, and Soho House London. His artwork has also been published in various magazines in print and online including American Art Collector, Buzzfeed, Complex Magazine, Juxtapoz Magazine, Hi-Fructose Magazine, LA Weekly, Vibe Magazine, PoetsArtists, Beautiful Bizarre Magazine, Professional Artist Magazine, High Times Magazine, Kolaj Magazine, Gay Times, BOOOOOOOM and Supersonic Art.
Vanity Pop Artist Statement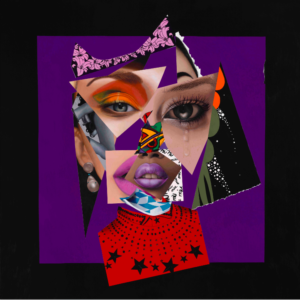 We are bombarded with an excess of unrealistically perfect images, packaged as though they reflect how every woman sees herself. The unique radiance of the female form is Photoshopped away. Models cover their most distinctive features. Young girls, spoon-fed hatred of their bodies, are likely to become carbon copies of magazine covers – inevitably finding it difficult to love themselves. Unfortunately, this is a reality many of us relate to all too well, myself included.
I believe women are God's greatest work of art. My creations pulsate with feminine energy and while I cannot fathom being a woman in this patriarchal world, I open my creative process to their inherent allure. Through my paintings, I aim to celebrate diversity and the acute imperfections and endless perfections every woman possesses.
My signature painting style, Vanity Pop, fuses elements of photorealism, cubism and fashion design into vibrant, abstract portraits. Vanity Pop is a celebration of beauty, fashion, personal identity, luxury, excess, insecurities and vulnerability. With this foundation, my portraits become a visual dialogue on the male gaze, it's impact on pop culture and consumerism and ultimately how they impact people, as well as our beauty standards.
As emotional, flawed beings we wear multiple layers in the pursuit of acceptance. I juxtapose my paintings in that same fashion. Like a cosmetic surgeon, I methodically stitch the "perfect" features together, bringing my ideas to life. I use personal & found imagery in my portraits while adorning my muses in luxury brands or patterns. Although my work mimics collage or mixed-media, each piece is meticulously hand-painted to blur the boundaries between perception and reality. By juxtaposing my subjects with diverse "perfect" features, my work speaks to the fragmentation within us all as we strive for acceptance in a world full of unrealistic standards. In essence, my art is a mirror, reflecting the surreal, superficial world we live in. 
Producing art that ignites discussion, captivates the senses and most importantly, questions the value we place on the superficial will always remain my primary objective. As my career grows, I hope to continue showing my work in prestigious galleries and museums worldwide; however, I find myself most excited about fostering and nourishing direct relationships with my audience and giving back to the community.
POP POP ICONS – ARTIST STATEMENT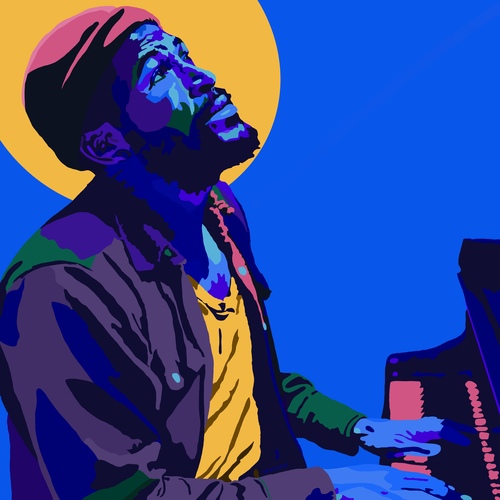 Music has always played a major role in my life and I can still hear my parents playing Miles Davis, Prince & so many other classics when I was a kid. They had amazing taste in music and that helped develop my palette and also gave me a foundation to pursue, create, and make a living in music.
These vibrant portraits are created to celebrate my favorite pop icons. Unfortunately, many of them have passed away so it also gives me a chance to create vibrant, iconic portraits of the artists I consider legends. At the end of the day, I just want to keep their legacies & our culture thriving, while connecting people worldwide. Everything about our culture is preserved through art and the youth so I just wanted to create something that could be shared with my son or my grandmother and still have the same impact. Music is so powerful & I love how it connects us ALL.